You'll want to save this no-fuss egg toast recipe with vegetables and make it on repeat! This omelet toast is a satisfying and healthy breakfast recipe that takes only 5 minutes of work. Make it for your family or double (or even triple) the recipe to serve company.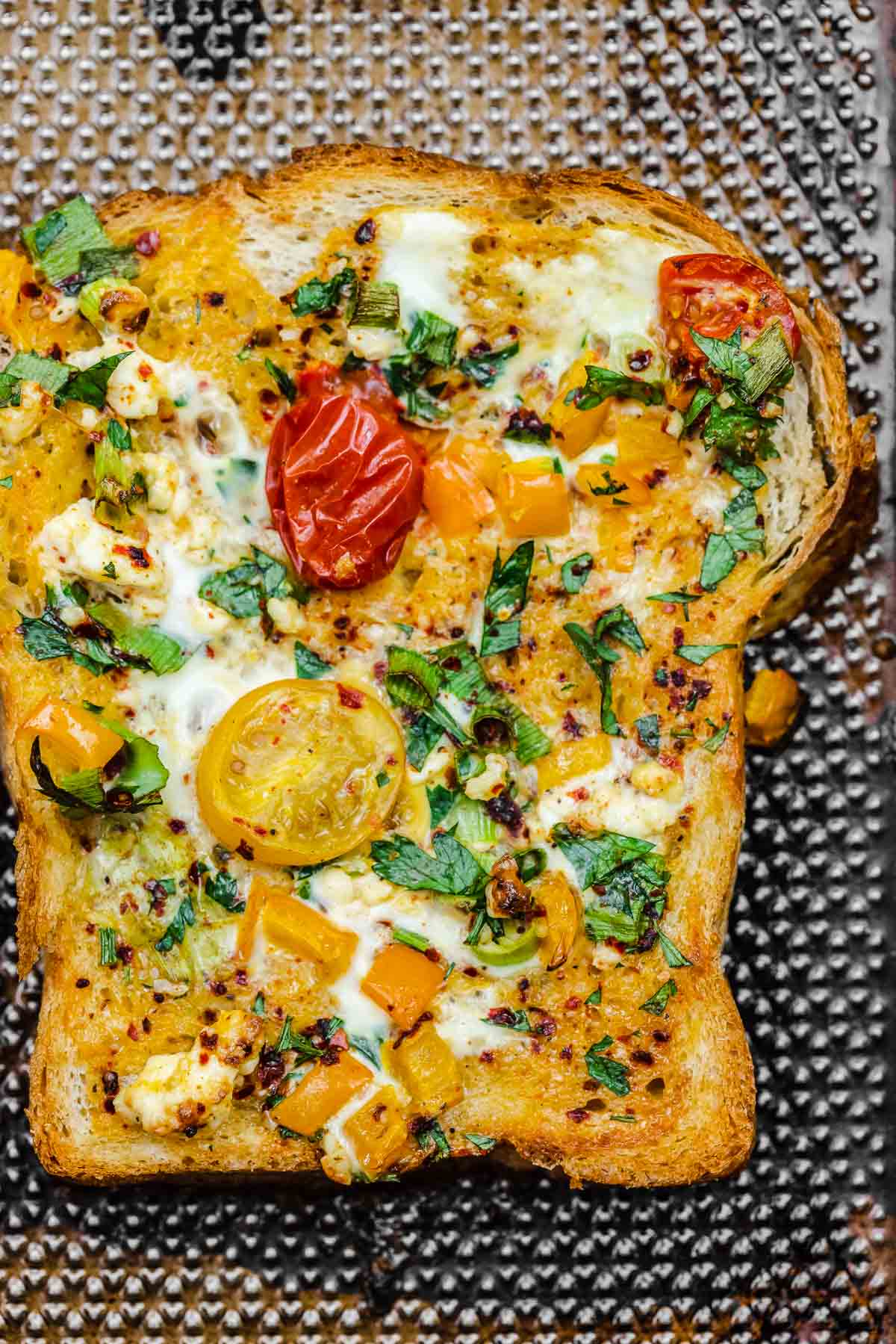 I get asked all the time for Mediterranean Diet inspired breakfast ideas, and this egg toast with vegetables ticks all my boxes! Quick? Check. Easy? Check. Delicious? Check!! 
If you're in the mood for eggs and vegetables, but want something less involved than a vegetable frittata or an egg casserole, egg toast is just what you need.
Simply whisk together eggs, vegetables, and some feta cheese. Spoon the mixture onto sliced bread, and bake for about 15 minutes. Breakfast is served!
The recipe gives you four servings, but you can double or triple it to serve a bigger crowd. It's perfect for special brunch gatherings.
Table of Contents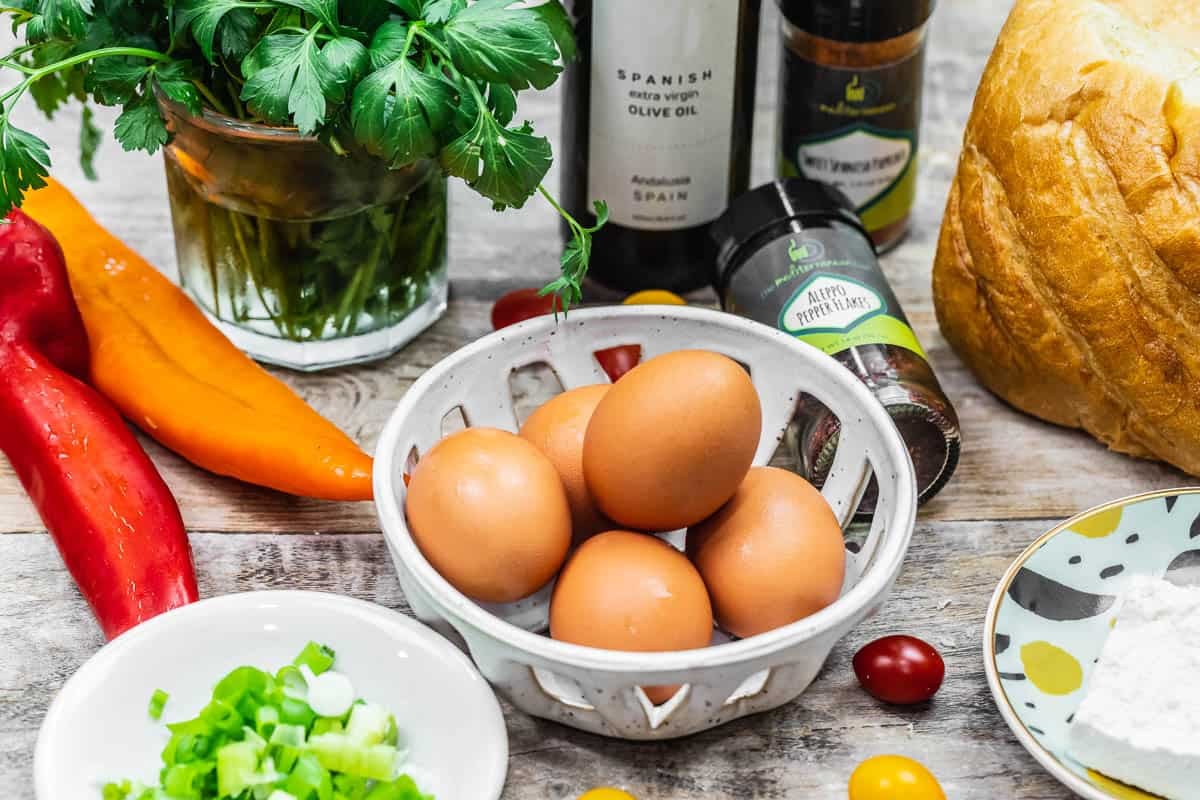 Ingredients you'll need for egg toast
A few eggs, vegetables, and spices are all you need to make delicious egg toast for breakfast! Here's more details:
Eggs: You'll need 4 to 5 large eggs.
Vegetables: I used a bell pepper, cherry tomatoes, and green onions, but I have ideas of different veggies you can use below. 
Crumbled feta cheese: Opt for a block of feta in the brine and crumble it at home instead of choosing the pre-crumbled kind. These tend to be dry instead of creamy, and lack the robust flavor of blocks of feta cheese. 
Parsley: A few tablespoons of chopped flat-leaf parsley add a fresh herbal element.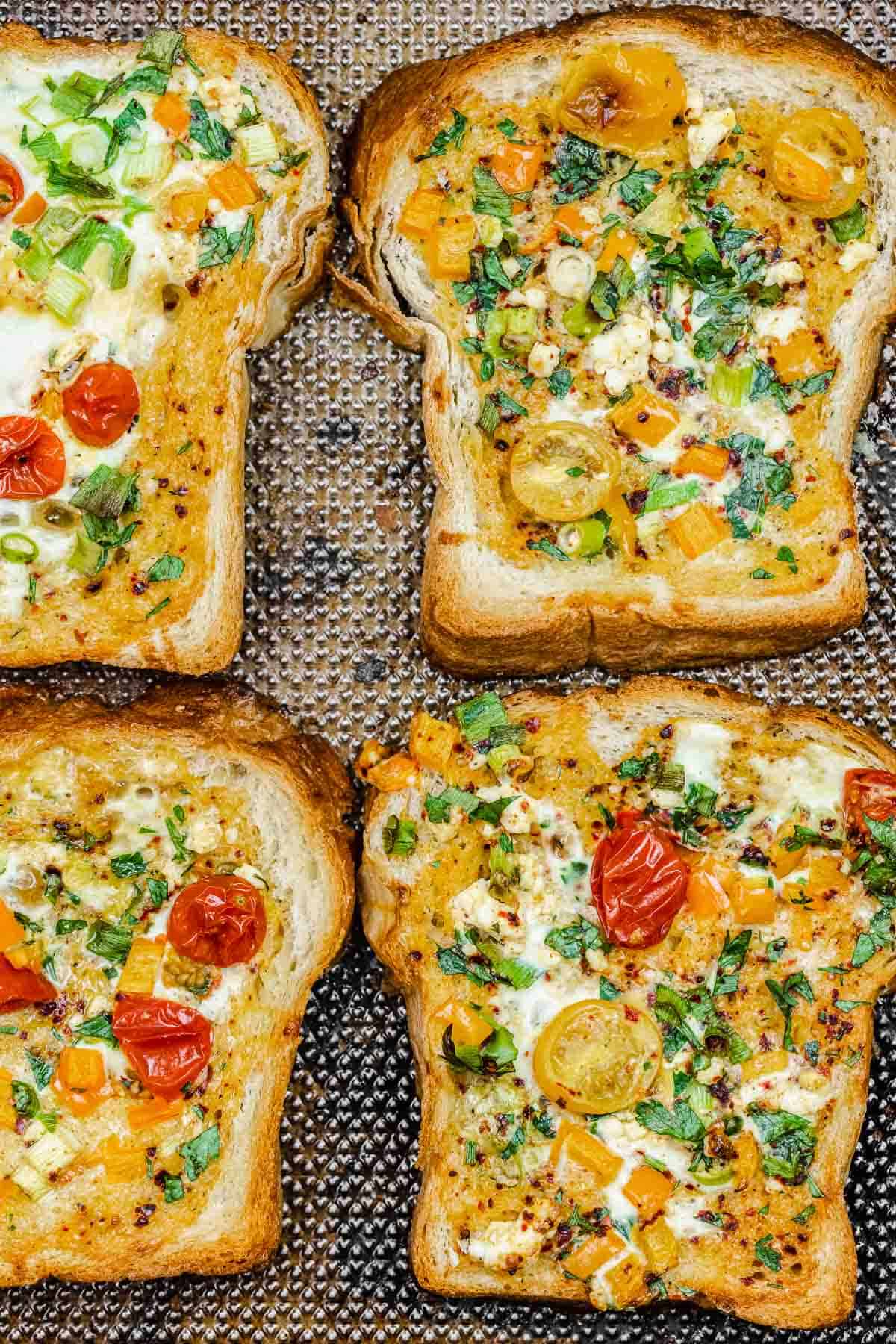 How to make egg toast
I am all about a no-fuss breakfast recipe, so this simple baked egg toast is part of my regular rotation! Here's how to make it:
Prepare the egg and vegetable mixture. To a medium mixing bowl, add 4 to 5 large eggs, kosher salt, ½ teaspoon paprika, and ½ teaspoon red pepper flakes or Aleppo-style pepper. Whisk, then add 1 chopped bell pepper, ½ cup halved or chopped cherry tomatoes, green onions, ¼ cup crumbled feta cheese, 2 tablespoons chopped parsley, and a drizzle of extra virgin olive oil. 

Add eggs and vegetables to the bread. Brush a sheet pan lightly with olive oil and arrange 4 slices of bread in it. Divide the egg mixture among the bread, making sure all the slices have some vegetables and feta cheese on top. 

Bake the bread. Bake on the center rack of your oven heated to 375°F for about 15 minutes. The eggs should be cooked and the vegetables should have softened slightly.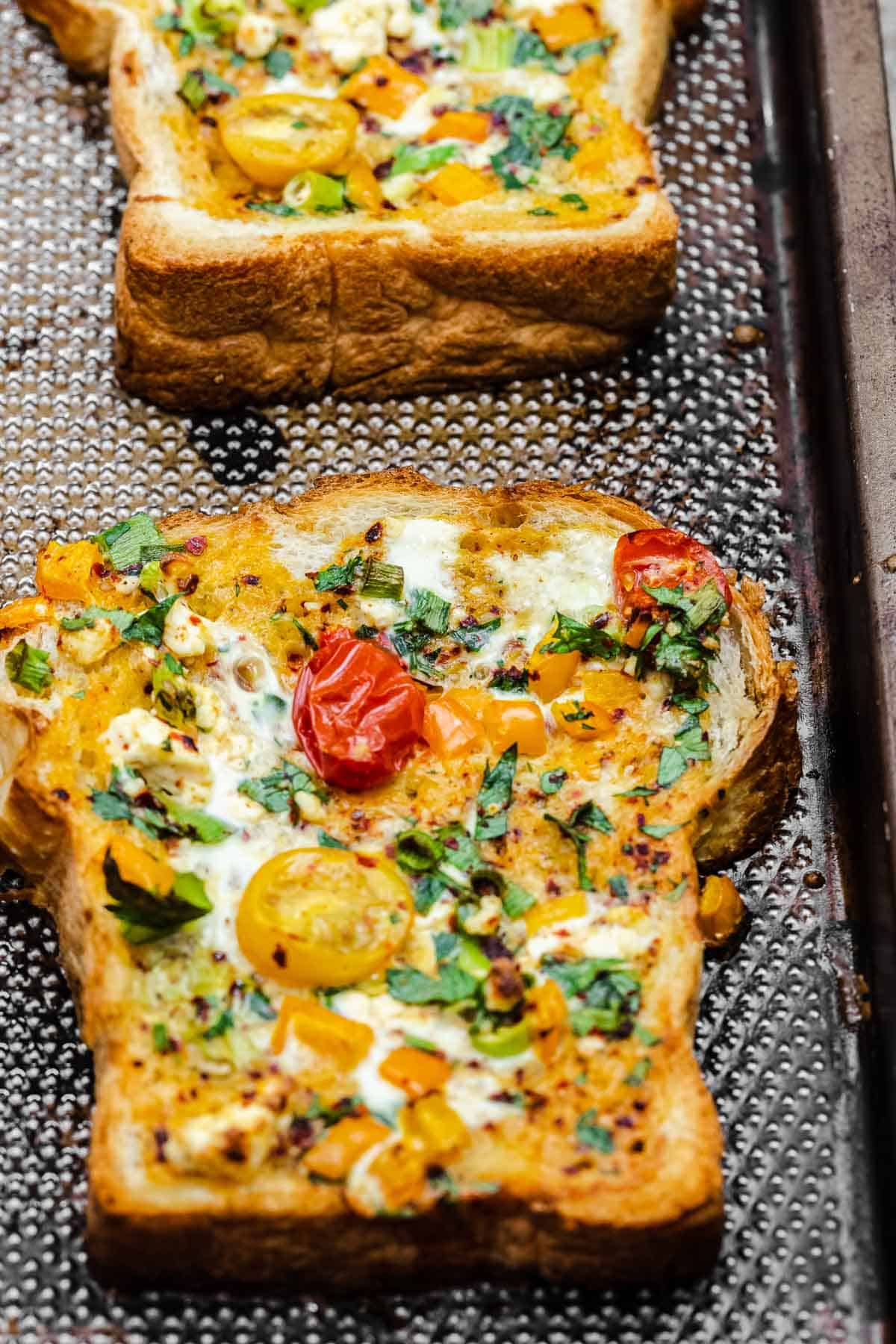 Egg toast loves company
A single egg toast makes a super satisfying and healthy breakfast, because it's loaded with veggies, a little fat from the feta and protein from the eggs, but if you need a little something extra, add a drink.
Why not make a refreshing green juice or creamy tahini date shake to go along with it? A simple fruit salad is an easy and welcome addition to morning meals, too. It doesn't have to be fancy. 
Egg toast is a great way to feed a crowd for Sunday brunch. You can easily double this recipe, and pop it in the oven. Whip up the drinks and salad while it bakes. No standing over a stove making a couple of pancakes at a time.
If you are planning for company and need a gluten-free option, serve my pumpkin parfait. It's another healthy breakfast (or dessert) idea to add to the rotation. Sometimes the conversation keeps coming especially when the food and drinks are flowing!
Don't be afraid to turn brunch into an afternoon affair! Serve your guests — a boozy coffee drink beloved in Spain, and many other Spanish speaking countries.
Egg toast anyway you want it!
Feel free to tweak the vegetables and spices to use what you have on hand. I love how customizable this egg toast breakfast recipe is! Here are some ideas:
If you're an onion lover, swap out the green onions for very finely chopped red onions. You'll get more of a delicious "oniony" bite.  
Use finely chopped firm Roma or on the vine tomatoes instead of cherry tomatoes. Tomatoes that are too ripe and mushy will make the toast soggy. 
Browse all Mediterranean recipes.
Visit Our Shop.
Season up your eggs with our spices!
Browse The Mediterranean Dish Spice Collection!
Whether you're looking for unusual or exotic spices like Aleppo pepper, ras el hanout, or — or pantry staples like paprika and — we've got you covered!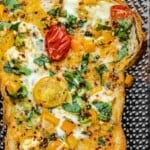 Print
Egg Toast with Vegetables (Healthy Breakfast Recipe)
This is just the thing when you need a quick, nutritious, delicious breakfast recipe! Ready in about 20 minutes from start to finish, this egg toast with veggies will keep you satisfied for hours. Serve it on its own, or with a drink like a green juice or a tahini date shake.
If you're hosting brunch soon, feel free to double or triple the recipe!
Ingredients
large eggs

Kosher salt

½

teaspoon

sweet paprika

½

teaspoon

red pepper flakes or 1 teaspoon Aleppo-style pepper

bell pepper,

chopped

½

cup

cherry tomatoes,

halved or chopped

green onions,

trimmed and chopped

¼

cup

crumbled feta cheese

tablespoons

chopped fresh parsley

Extra virgin olive oil

slices

of sandwich bread,

thick cut
Instructions
Preheat the oven to 375°F and set a rack in the middle.

Beat and season the eggs. In a medium mixing bowl, add the eggs and season with kosher salt, paprika, and red pepper flakes or Aleppo-style pepper, and whisk.

Add the vegetables, etc. Add the chopped veggies, feta, and parsley, and a drizzle of good extra virgin olive oil.

Prepare the bread. Brush a sheet pan with olive oil and arrange the bread on it.

Top each slice of bread with a portion of the whisked egg mixture.

Bake. Place the sheet-pan on the middle rack of your heated oven. Bake for about 15 minutes or until the egg mixture is fully cooked and the veggies have softened a bit.
Nutrition
Calories:
175.2
kcal
|
Carbohydrates:
g
|
Protein:
g
|
Fat:
g
|
Saturated Fat:
g
|
Polyunsaturated Fat:
g
|
Monounsaturated Fat:
g
|
Trans Fat:
g
|
Cholesterol:
168.7
mg
|
Sodium:
288.8
mg
|
Potassium:
247.3
mg
|
Fiber:
g
|
Sugar:
g
|
Vitamin A:
IU
|
Vitamin C:
mg
|
Calcium:
mg
|
Iron:
mg
The post Egg Toast with Vegetables (Healthy Breakfast Recipe) appeared first on The Mediterranean Dish.
This content was originally published here.